Over the last several months to one year, Temmen Plastic Surgery has seen a dramatic increase in the number of requests for labiaplasty consultations and surgeries performed by Dr. Traci Temmen.
This experience is mirrored by a similar rise in labiaplasty consultations and surgeries performed throughout the United States and abroad.  According to the American Society for Aesthetic Plastic Surgery 2014 Report, labiaplasty procedures experienced a 48% increase in 2014, second only to the Brazilian butt lift and buttocks augmentation procedures, as the most rapidly increasing cosmetic surgery procedure performed in the United States.
Why the Increase in Labiaplasty Surgery Requests?
Not only is Dr. Temmen one of the few female, board-certified plastic surgeons in Tampa Bay to perform labiaplasty surgery, but her comforting bedside manner, gentle surgical technique, and laser-like attention to detail make her a natural choice for women considering labiaplasty surgery in Tampa, Florida.
However, this does not fully explain the dramatic increase in the number of labiaplasty consultations seen by Dr. Temmen at Temmen Plastic Surgery.  When asked, Dr. Temmen explained her thoughts on why more and more women are considering labiaplasty surgery:
"As grooming habits and fashion have become more revealing over the years, women's awareness of the appearance of their external genitalia, the labia minora and labia majora, has also increased.  It is now quite common for women to shave or wax their pubic hair, making the labia minora and labia majora more visible while clothed or unclothed.  Women with enlarged, dark, or long labia minora and labia majora are often embarrassed by their appearance; shaving and waxing in this area serves to make enlarged labia even more noticeable and embarrassing.  Additionally, workout clothing has become tighter and more fashionable, sometimes highlighting or worsening the appearance of large labia.  Similarly, women today are more active than they once were.  Women now routinely participate in aggressive workout routines and sports that can aggravate, worsen, and cause pain for those patients with enlarged labia majora and labia minora.  Finally, with increasing access to the internet and communication, it is easier than ever for a woman to compare herself to other women and notice if she does not "look normal down there"."
Why Are More Patients Choosing to Have Labiaplasty Surgery?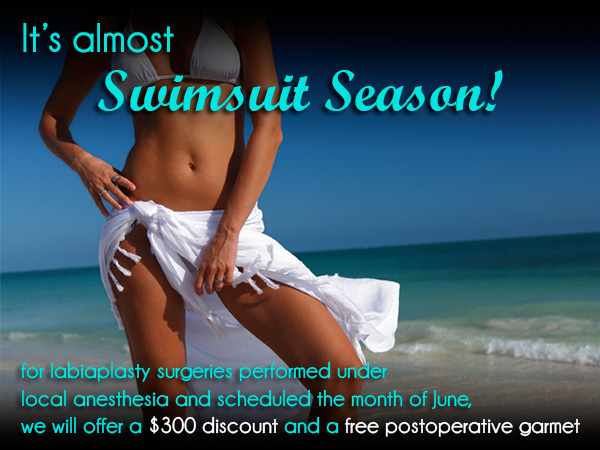 Here, Dr. Temmen explains why she thinks an ever-growing number of women are deciding to go ahead with labiaplasty surgery:
"Essentially, labiaplasty techniques have become gentler, risks have been decreased, and labiaplasty recovery is faster than ever before.  As women become more aware and/or unhappy with the appearance of their external genitalia, they look for ways to improve it!  As the national discussion over labiaplasty grows, women are becoming more educated on their options for labiaplasty surgery, the costs of labiaplasty, risks associated with labiaplasty, and how to pick the best labiaplasty surgeon.  Labiaplasty techniques are evolving as well.  As more and more plastic surgeons perform labiaplasty surgery, older, more aggressive approaches give way to gentler, more effective, and less risky labiaplasty surgery."
At Temmen Plastic Surgery, Dr. Temmen usually performs labiaplasty surgery under local anesthesia (i.e. with the patient awake) in less than one hour.  She performs labiaplasty surgery in an outpatient setting, with the patient going home the same day, and with the patient often able to drive to and from the surgery.  Dr. Temmen usually uses the "inferior wedge" labiaplasty technique.  This evolution of the original labiaplasty technique avoids long, potentially painful scars on the edge of the labia minora and decreases the chance of postoperative complications.  Dr. Temmen knows how important a fast recovery is to her patients.  Because of this, Dr. Temmen pays particular attention to helping her patients avoid postoperative swelling and bruising by stressing the importance of compression and activity modification during the first few days following labiaplasty surgery.  It is because of her meticulous attention to detail and easy communication that Dr. Temmen's labiaplasty patients have exceptional results as well as an easy, speedy recovery.
What Changes Do You Expect in the Field of Labiaplasty?
When asked how she thought the field of labiaplasty might continue to evolve, this is what Dr. Temmen had to say:
"Because of its increasing acceptance, improved surgical technique, and relatively low cost, I think the popularity of labiaplasty surgeries performed in the United States will continue to rise.  However, like with any other popular cosmetic surgery procedure, this also means that more and more unqualified and poorly trained practitioners will try to "get in on the action" and try their hand at labiaplasty surgery, as well.  Unfortunately, it will be up to the patient to do their research and find the best labiaplasty surgeon they can."
To this end, Dr. Temmen suggests that women interested in labiaplasty choose a plastic surgeon certified by the American Board of Plastic Surgery who is also a member of the American Society of Plastic Surgeons.  She recommends that patients trust their instinct and choose a labiaplasty surgeon they feel comfortable with, can easily communicate with, and believe can deliver the results they are looking for. To book your one on one consultation with Dr. Traci Temmen contact us today: (813) 771-6393 or email