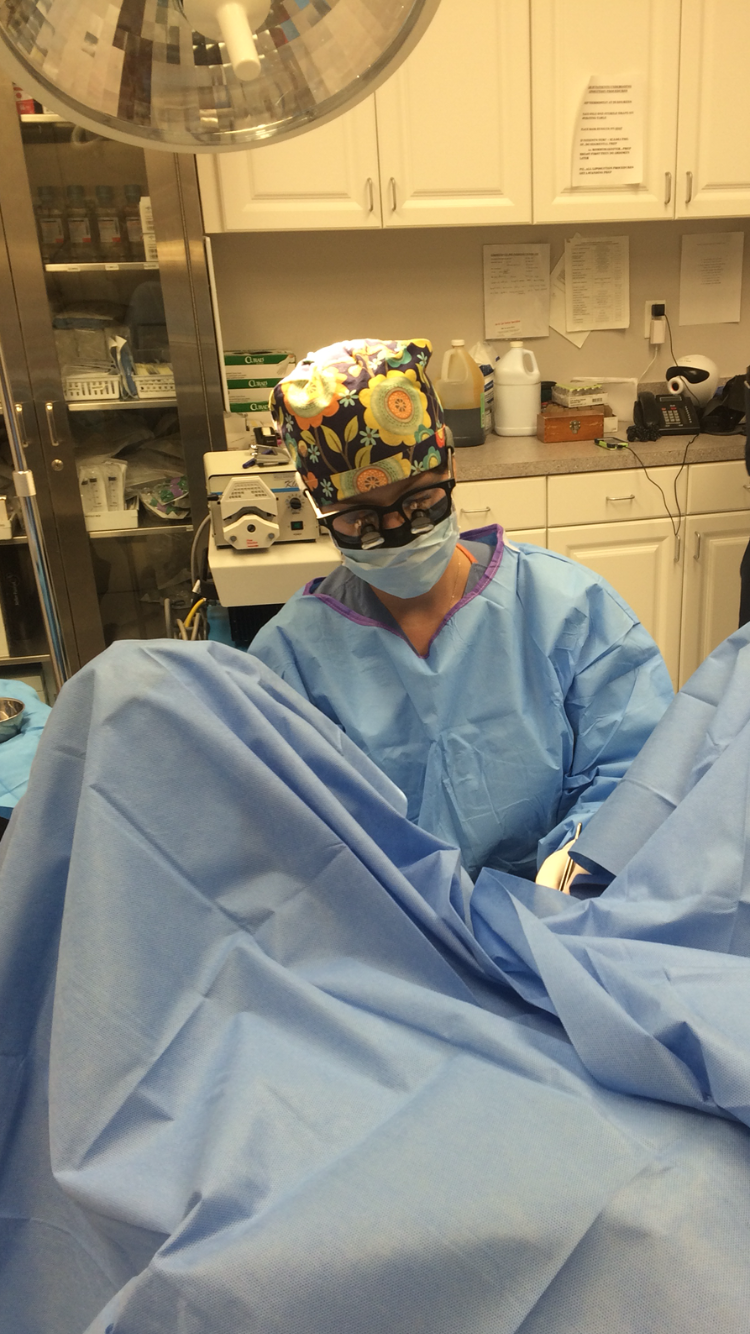 October's patient of the month had her labiaplasty surgery in Tampa scheduled for October 15. Her surgery was scheduled for later in the afternoon, and she arrived at approximately 11:30am. Upon her arrival, she was taken into a preoperative holding room where she changed into a surgical gown and I was again reviewed her medical history to ensure it was up-to-date. Because her surgery was going to be performed under local anesthesia, she did not require an IV to be placed, nor did she meet with our anesthesiologist. However, she did take a small dose valium I had prescribed at her preoperative appointment to help calm her nerves right before surgery.
Once the operating suite was ready, I escorted the patient to the operating room and helped her get comfortable on the operating room table. I then injected the local anesthesia into each side of her labia minora. Like most labiaplasty patients, this was the part she had been most dreading! However, after the initial "pinch" of the needle, I inject the anesthesia in such a way that most patients only feel one small injection on each side. After I finished injecting the anesthesia, the patient said "this was not nearly as bad as I had expected." I then let the anesthetic take effect for approximately 15 minutes to ensure the patient is completely numb prior to the start of surgery. During this time, the operating room nurse cleaned and prepared the surgical site.
After the anesthetic had taken effect I came back to the operating room, did a "pinch test" to ensure the patient was absolutely numb (which she was!), and put on sterile gown and gloves. I then started the surgery on the right side. Because most labiaplasty patients are completely awake for their surgery, I want them to be completely calm and comfortable throughout the entire procedure. Some patients bring headphones and listen to music. Others watch videos on their cellphones during the surgery. This patient was comforted by my telling her exactly what I was going to do, before I did it, so she knew what to expect and was never surprised or startled during surgery. She was actually very curious about the surgery and seemed more interested rather than nervous once I got started.
The vaginal rejuvenation procedure took about 45 minutes and went extremely well. Immediately afterwards, I gave the patient a mirror so she could see her initial postoperative result. Even though she was swollen, she was still very happy with her appearance and couldn't believe this was the "new" her! We then helped her into her postoperative garments and escorted her back to her husband and mother in the waiting room.
I reinforced to the patient to take it easy the rest of the afternoon, keep her legs and hips elevated as much as possible, and take pain medications as needed. I then arranged to see her the next day for her first postoperative appointment. She walked to her car with her family feeling happy and completely comfortable. If you are considering having a labiaplasty and would like to schedule a consultation, please contact us today.
Dr. Traci Temmen